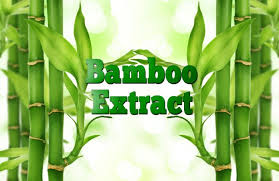 Type: Botanical Extracts
Botinical Name: Bambusa vulgaris
Common Name/ Other Name: Bamboo
Scientific Name(s): Bambusa
Family: Poaceae
Part Used:Shoot & stem
Colour and Appearance: Off -white to light grey colour crystalline powder
Place of origin: India Madhya Pradesh
Brand: Ambe Ns Agro Products Pvt Ltd.
Product Code:AMBBA01
Specification: Silica 50% 60% & 70%, 75 %,
Testing Method: Gravimetric/HPLC
Application : Regulates menstrual period and help digestion of proteins
Packing: 25 Kg HDPE drums with double polybags inner side
Uses:
Bamboo, can be described as an open, clump-type bamboo species having lemon yellow culms, with green stripes and dark green leaves. The plant can grow up to a height of 12 meters. New culms shoot up in mid-summer and attain full height in less than 60 days. The plant is native to the Himalayas, but is now cultivated widely throughout tropical.Since common bamboo enjoys plenty of moisture, keeping it well watered is a necessity for a healthy plant. It Phas been considered as one of the fastest growing plants on Earth.
Brief:
Bamboo is a valuable source of natural silicon, which is indispensable for the aluminum excretion. Only in Herba Sale the new product is available, in which silicon combines with choline with each other. This combination enhances the effect of both elements and is used in addition to the more effective aluminum Recovery improving vitality and health. Fatty acids transported from the liver to prevent fat deposits in the body organ;
In the form of acetylcholine is an important neurotransmitter mediators, controls emotions and Phas positive effects on memory;
Is for the synthesis of myelin and thus responsible for the health of nerves,
Is involved in the synthesis of vital enzymes and hormones.
Benefits:
Bamboo is used in manufacturing a number of products, like building materials, carpentry, farming, forestry, hunting and fishing apparatus, fuel and lighting, household, domestic and personal items, pulp and paper.
The culms of bamboo are largely used in constructional work, tool handles, weapons, furniture, musical instruments, handicrafts, stakes, pots, etc.
The leaves are sweet and has astringent, cooling, emmenagogue, opthalmic, vulnerary, constipating and febrifuge properties.
The leaf sheaths of bamboo are urticant. They are used in food for criminal poisoning.
Bamboo plants are especially cultivated to produce these shoots.
Bamboo shoots are planted as ornamental or boundary markers and used in supporting banana plants.
Bamboo extract is used to treat various inflammatory conditions.
Its sprouts are acrid, bitter and laxative and are helpful in inflammations, ulcers and wounds.
Split stems of bamboo are used for making baskets, fences, roofs and roof tiles.
In India, bamboo is used for making paper, since it provides good quality paper pulp.
Stem sheaths of bamboo are used as covers for beehives.
The bamboo resin (tabasheer, banshalochan) has astringent, acrid, sweet, cooling, expectorant, constipating, cardiotonic, haemostatic, aphrodisiac, and diuretic properties. It is used to treat infantile epilepsy.
Bamboo is used as an abortifacient for kidney troubles.